Weave Mazes: Your Take?
28 February 2011
— A challenge is given, urging the reader to consider how a maze might be created in which passages weave over and under each other. A subsequent article is foreshadowed — 1-minute read
Later this week I'm going to post an article about how you might implement "weave mazes", like this one: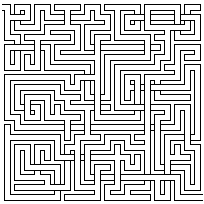 This is a maze where some of the passages "weave" over or under other passages. It's a type of 3D maze, but very constrained (mostly for esthetic reasons):
Passages may only move under or over each other when they are perpendicular to each other.
A passage may not terminate (dead-end) either under or over another passage.
Passages may not change direction either over or under another passage.
Before I post my implementation, though, I wanted to get you thinking: how would you implement a weave maze?